Ecocleaning and traditional cleaning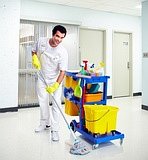 Proper preparation of property for sale or rent is half the battle.
The first step of every owner should be thoroughly cleaning of property.
To help you even at this stage of the preparation for sale or rent we offer the surface cleaning services in the traditional version and the modern and ecological approach - steam cleaning.
Each service is tailored to customer needs. Our cleaning team will take care of every interior and steam car wash will restore upholstered furniture, carpets, refresh the tiles, terracotta and even elevation. Its possible applications are almost unlimited. Besides the two forms complement each other perfectly and make it in a few hours each interior will look appealing.
Traditional cleaning service includes cleaning:
floors,
walls,
windows,
a thorough cleaning of bathroom and kitchen (including all appliances).
Cleaning team can can be useful after leaving the premises by tenants or prepare it to accept new tenants. Certainly, this will increase the attractiveness of the offer, which can cause rapid conclusion of a transaction or obtain a higher price.
---
To use any of these services please contact our helpline or send a message using our contact form and we will respond within 24 hours to discuss your requirements.
back