Architect
Buying land is often the first step to fulfill the dreams of your own home.
Sometimes we pick a design of the building, looking for just the right place where it might arise.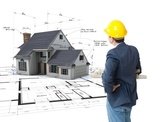 Due to the fact that our goals we need to adjust to the reality, the project home you need to adapt to the size of the plot or directions of the world and sometimes order the brand new one that would meet your expectations.
Everyone wants to have an impact on the future shape of their property, to co-create it at the design stage, to create something special.
To assist you in this important moment, we offer service of architects who represent different styles of design and personal attention to every order. They have extensive experience and authorization required by law. Advise in project selection, adapt to the needs of elected or create an individual project by the contract.
In addition to the projects we also offer home plans and designs of commercial buildings and multifamily housing.
---
To use any of these services please contact our helpline or send a message using our contact form and we will respond within 24 hours to discuss your requirements.
back